A Great Sound System is the Secret to your Success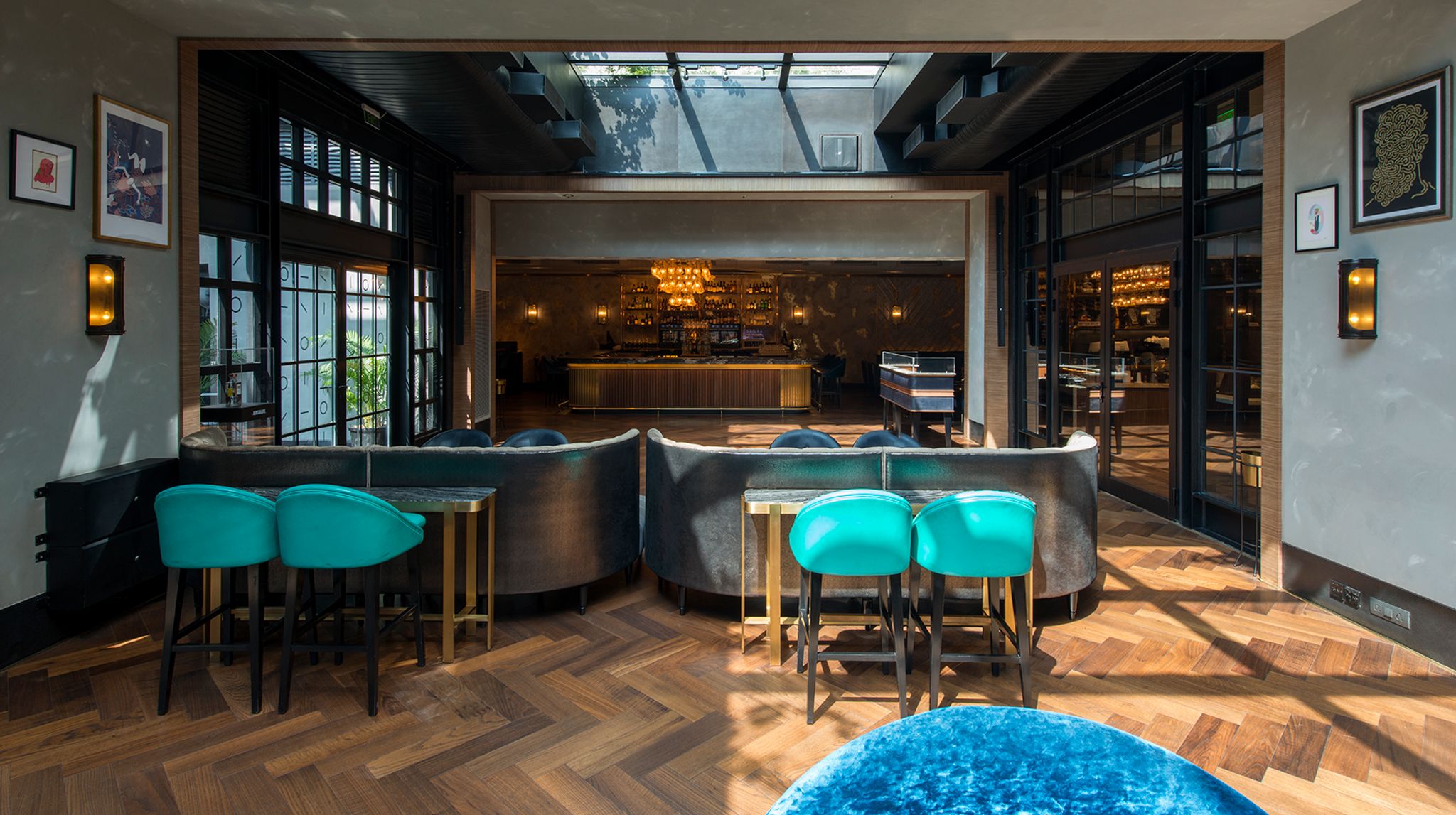 Today, nightclubs audio systems aren't just focused on "louder and more bass". The requirements have changed; clear and easy to use nightclub sound systems are now expected, with cleverly-zoned audio systems, creating different moods or using sound treatment in different rooms - the discerning listeners expect to hear crystal clear audio, as well as thumping bass. This is what will help you elevate your guest experience and stand out from the crowd.
Our K-ecosystem designs acoustic systems of high-quality and flexibility for lounges and clubs. The powerful, yet fast and controlled sound that the speakers make pulses through the veins and literally punches the air with vigour, whilst harmonising with any adjoining areas with different audio requirements. These reliable solutions can go night after the night without relenting. We've rounded up three of our favourite club and lounge projects we've been involved with.
Iris Nightclub, Dubai
The Challenge
Iris bars can be found in the world's gateway cities. They are modern lounge bars delivering an elegant, natural, sensuous and free-spirited experience. Since the launch in Beirut in 2010, they have been a hot spot for memorable DJ events, cocktails and high profile parties. Iris recently opened a new site in Meydan, Dubai. With many signature traits, there is one universal key ingredient contributing factor to Iris' major success - great sounding audio. Procom Middle East, our local distributor, handled the complete audio integration from design to execution and technical support, and like the other locations around the world, the venue called on K-array to meet their high expectations. The venue goes beyond the typical late-night DJ sets and provides both a Friday brunch service and live band music at various times, all of which provide a different set of requirements for the audio system. "We had to create an audio system that could cater to in excess of 2,000 customers that offered enough power and punch for an outdoor venue while still remaining in control of many additional factors such as noise pollution and key design elements"
The large open-air space is an unusual shape and is divided into several sections with seating spread all around. There are five bars, high tables, lounges and two areas reserved for VIPs – all centred around a centralised view of downtown Dubai and the Burj Khalifa. Iris suffers from extra restrictive noise regulations. As such, Procom had to pay extra attention in the design to limiting outside transmission: the system was designed by very carefully taking into account noise restrictions in the area, installing a system that has all the coverage and power requirements of a club installation and yet still meet the noise restriction requirements of the area.
The Solution
K-array's Dragon-KX12 cabinet was central to the project. Outputting up to 132dB, Dragon provided amble SPL for the Iris lounge and ticked all of the boxes in terms of its compact size and sleek aesthetic. The floor area and main bar installed four pairs of Dragon-KX12 finished in black to match the venue's trademark pillars. These were paired with 18-inch Thunder-KMT18 subwoofers tucked out of sight. The four additional sidebars were fitted with five Dragon-KX12 and five Thunder-KMT218. The Python-KP52 column loudspeaker was also wall-mounted to provide additional coverage.
The large VIP section features twelve Python-KP52 spread uniformly throughout. Four Thunder-KMT18 subwoofers generated the necessary low-end for this area. Away from the main rooftop, Procom integrated twelve Tornado-KT2C speakers into the ceiling for the wine cellar. Iris Dubai's expansion has seen a complete new indoor venue with sound, light and video. Eighteen Dragon-KX12 passive speakers along with five Thunder-KMT21 and eight Thunder-KMT218 active subs were installed throughout the venue. All controlled by Symetrix, using Prism 8×8 digital signal processor, a control server and xControl external control expander. The DJ monitor system consisted of two Thunder-KMT21 and two Dragon-KX12 passive speakers.
The Happy Customer
"Noise requirements, level checks, and site readings were taken and used regularly during the design process to ensure the neighbouring residential areas would not be disturbed. As with the previous locations, the Iris management could not be happier with the work done by Procom."
Wassim Zouein - Iris' Operations Manager
12 Stories at InterContinental, DC
The InterContinental Hotel in Washington D.C.'s new billion-dollar residential and retail development, The Wharf, boasts a 3,500-square-foot rooftop cocktail spot, dubbed 12 Stories. The drinking destination marks the D.C. debut for Gerber Group, the prominent owner-operator behind the trendiest bars and restaurants in New York, Atlanta and Santiago, Chile.
Designed by interior designers SLDesign, 12 Stories features modern artwork by Paige Smith, industrial-chic design touches like concrete flooring, wired pendulum lighting, velvet, marble, leather and wood furniture, and an expansive 26-foot NanaWall, opening up onto an outdoor terrace.
The Solution
The Gerber Group requested an audio system from longtime partner integrator Global Audio Systems – who had already found success installing K-array in Gerber Group's Grand Central Station lounge, The Campbell – a system that could deliver a high SPL in a compact enclosure. Together with hotel management, the team selected K-array's Kayman-KY102 line array loudspeakers for its amazing horizontal coverage and its 4" closely-spaced drivers that allowed for better frequency response in the lower bandwidth. Given its similar characteristics yet in a smaller frame, the Python-KP52 was also selected for distribution throughout the venue. The Gerber Group and InterContinental Hotel were ecstatic with the sound and look of the final system, which is composed of 7 Kaymans and 4 Pythons.
The Happy Customer
"It sounds amazing, this was the right decision."
Gerber Group spokesperson
Noi Bar, Delhi
The Challenge
NOI is the nouveau high-energy lounge/bar located at the most luxurious mall, The Chanakya, in Delhi with an inhouse DJ that transforms the locale into a nightly hot spot. The client, real estate moguls DLF India, took the project to system integrator Macbee to produce the best sounding bar in Delhi. The interior designer Rockwell Group USA required an completely discreet audio system without any acoustic treatment to not disturb the high-end interior concept. The seating at the bar and in the courtyard was also a challenge, positioned very close to the walls so any surface installation could cause a poor experience for those close to the speakers rather than in the middle of the areas.
The Solution
With these requirements, Macbee wanted to take advantage of SPL consistency from a line array setup even though most bars and clubs in Delhi employ point sources. The only product which could fit their design and meet both demands was K-array with their small footprint and Pure Array Technology.
For the bar, a system consisting of 4 Python-KP102 line arrays, 2 Thunder-KMT18P subs and 4 Rumble-KU212 subs were installed and powered by a Kommander-KA84 amplifier. Eight Python-KP102 line arrays, 2 Thunder-KMT18P subwoofers and 4 Rumble-KU212 subs powered by a Kommander-KA84 amp were installed in the double-height courtyard.
Four Python-KP52 loudspeakers paired with 2 Thunder-KMT12P subs powered by a Kommander-KA24 amp for the outdoor lounge. The speakers were placed in the corners and the subs were set behind the seating with two in the courtyard area ceiling, so they were completely hidden but yet able to give the low energy required for the weekends when there are around 500-600 people and the bar turns into a nightclub.
The Happy Customer
"We were able to achieve a very high seat-to-seat consistency in terms of smooth bass response as well as SPL. The most amazing response from the management was that they were able to sit right next to the speaker and still have a conversation. Not only were we able to just achieve - we exceeded the clients' and designers' expectations both in terms of performance and looks using K-array unique audio solutions. This place is now one of the top 3 places in New Delhi."
Sawan Nichani - Sound Consultant, Macbee