Seat Music Awards & HEROES at Arena di Verona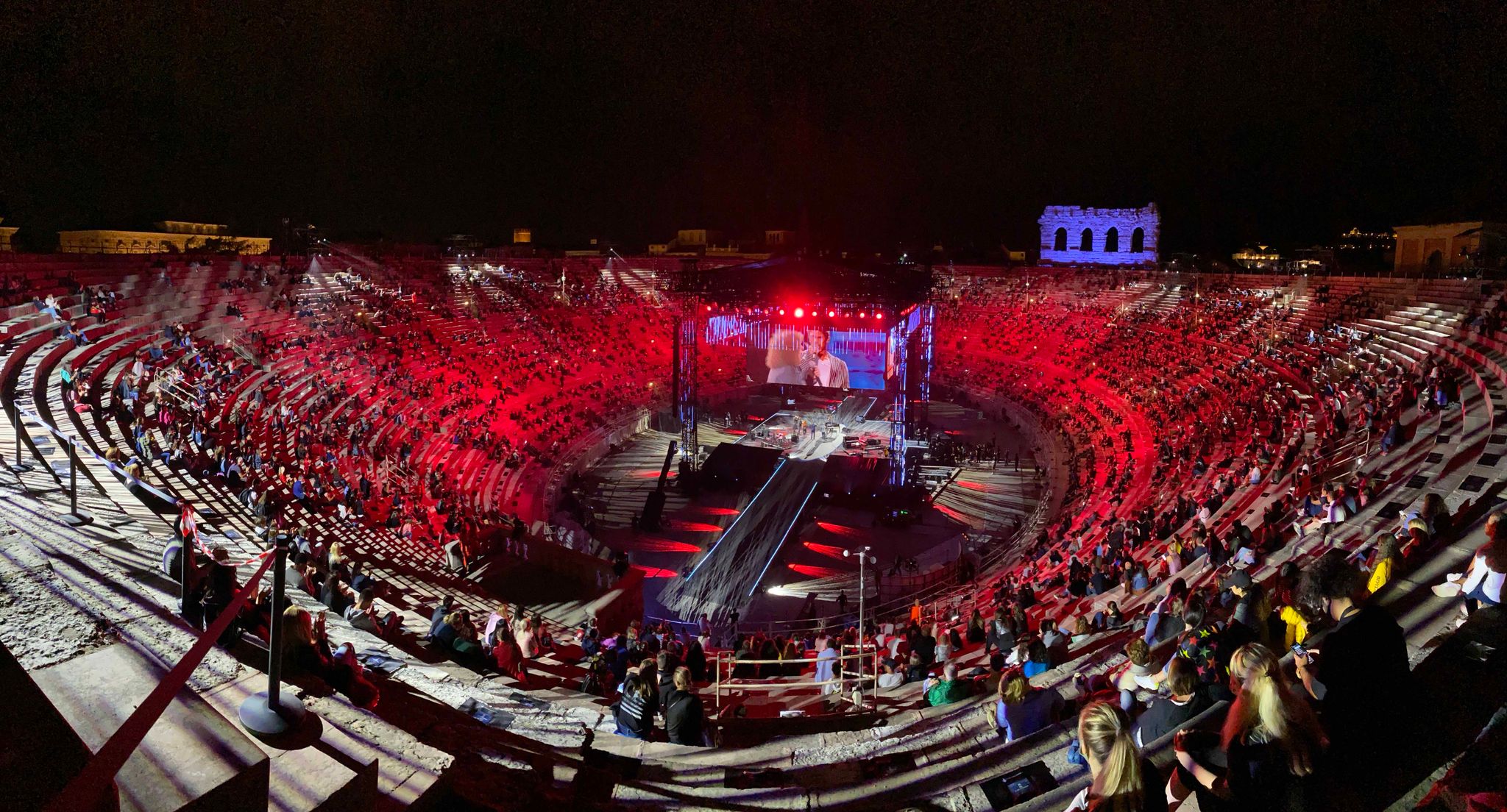 Two important events took place on September 5, 6 and 7 at the iconic Arena di Verona: Seat Music Awards 2020 and HEROES - Il futuro inizia adesso. These are two live concerts attended by some of the best Italian artists who came together to support fundraising for all entertainment operators through the social enterprise Music Innovation Hub. During the show tributes were given to the social and health workers involved in this unusual period. Medical staff were invited to participate for free in the evening on the steps of the Arena. The reduced capacity of about 4000 people and complexity to comply with the spacing rules meant that the stage design had to be well thought out, eventually they opted for the centre of the Arena.
For this event, the task of equipping the show with unforgettable sound was entrusted to Agorà S.r.L. of L'Aquila who aimed for excellent coverage in a 360 °configuration. The primary requirement was a minimalist visual encumbrance in order to show the beauty of the arena and the complete performance of the artists who would be broadcasting live for all to see. The project was carried out by Daniele Tramontani, Sound Designer. His solution was to fly eight clusters around four corners of the stage, each consisting of six Firenze-KH7 for a total of forty-eight KH7. To complete the Fly system, forty-six subwoofers were installed, distributed on the ground to form a virtual ring around the stage and a further sixteen Kayman-KY102 to cover the audience close to the stage.
The KH7 could deliver clean, uniform sound that provides even coverage all around the arena so that everyone can enjoy the top sound quality thanks to the Slim Array Technology that allows an hyper cardioid dispersion pattern on the horizontal plane; thus it allowed to minimize the amount of energy sent to the center of the stage and the noise pollution for the artists. As a final attention to the FOH engineers involved in this particular context, a reference listening unit was installed in the FOH control rooms composed of Pythons-KP52 and Thunder-KMT18 for monitoring the console. The same 360 ° solution was expertly developed by Agorà and his team in Claudio Baglioni's "Al Centro" tour: a long experience through the main Italian Palasports that allowed to evolve solutions that were immediately exported to the Arena.
The performances of the artists confirmed that the combination of the KH7 system and Agorà's professionalism has become an excellent result. The Firenze-KH7 system was able to reproduce a high intelligibility together with a well calibrated and homogeneous sound. The system and the solutions adopted proved to be optimal for this special installation at the Verona Arena where K-array is already a familiar invisible addition to the acoustics of this historic venue.
THE TEAM
Rental company: Agorà S.r.L. L'Aquila
FOH: Maurizio Nicotra, Andrea Corsellini, Alberto Butturini
Network manager: Edoardo Michelori
PA Assistants: Daniele Carillo & Saul Aisemberg
Sound designer/engineer : Daniele Tramontani
Product specialist K-array: Danilo Amato