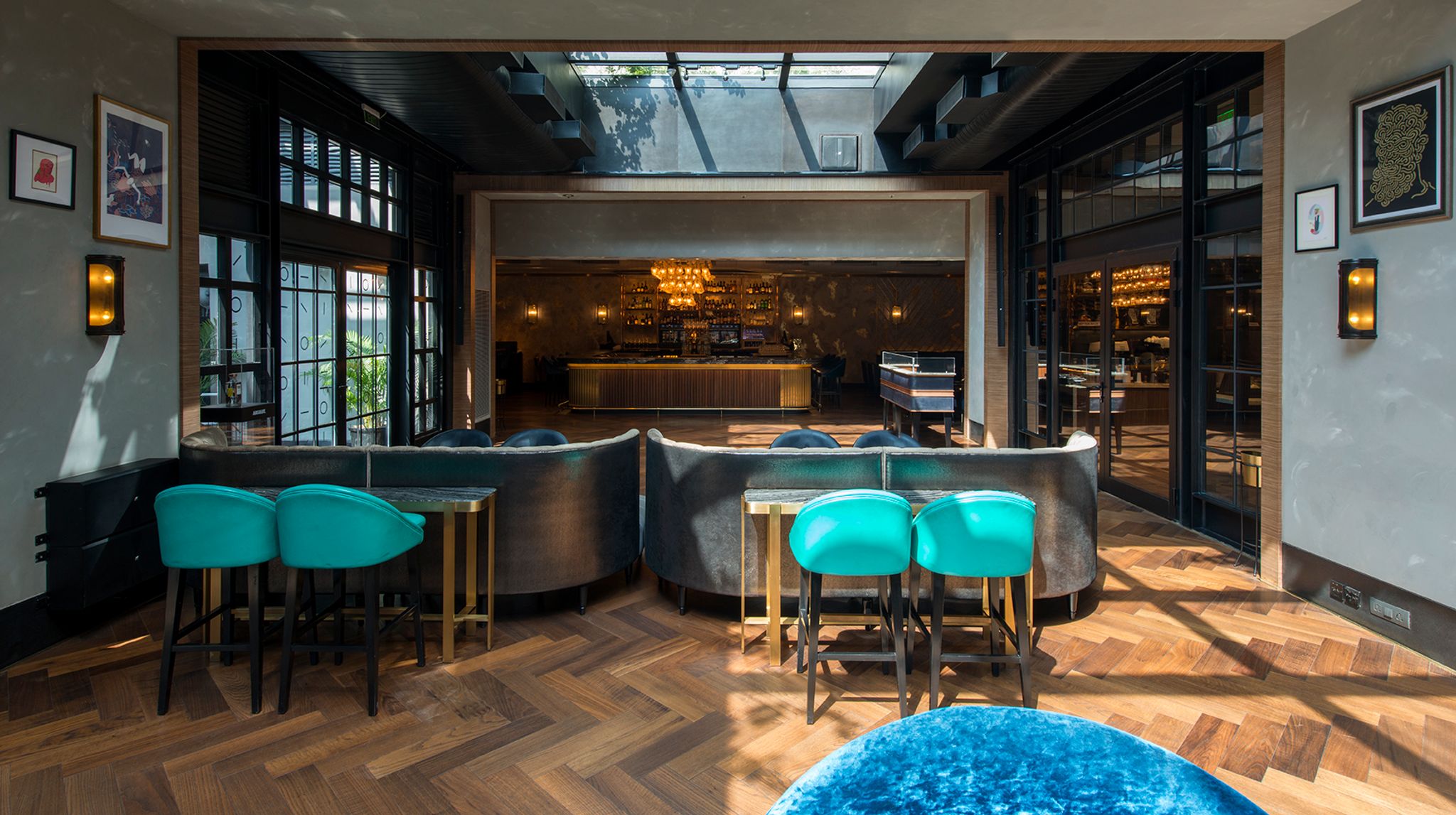 NOI is the nouveau high-energy loung/bar located at the most high-end luxurious mall, The Chanakya, in Delhi with an inhouse DJ that transform the locale into a nightly hot spot. The client, real estate moguls DLF India, took the project to system integrator Macbee to produce the best sounding bar in Delhi, however, interior designer Rockwell Group USA required an absolutely discreet audio system without any acoustic treatment to not disturb the high-end interior concept. Another challenge was that the seating at the bar and in the courtyard is positioned very close to the walls so any surface installation could cause a poor experience for those close to the speakers rather than in the middle of the areas.
With these requirements, Macbee wanted to take advantage of SPL consistency from a line array setup even though most bars and clubs in Delhi employ point sources. And the only product which could fit in their design and meet both demands was K-array with their small footprint and Pure Array Technology. For the bar, a system comprised of 4 Python-KP102 line arrays, 2 Thunder-KMT18P subs and 4 Rumble-KU212 subs were installed and powered by a Kommander-KA84 amplifier. 8 Python-KP102 line arrays, 2 Thunder-KMT18P subwoofers and 4 Rumble-KU212 subs powered by a Kommander-KA84 amp were installed in the double-height courtyard.
4 Python-KP52 loudspeakers paired with 2 Thunder-KMT12P subs powered by a Kommander-KA24 amp for the outdoor lounge. The speakers were placed in the corners and the subs were set behind the seating with two in the ceiling in the courtyard area, so they were completely hidden but yet able to give the low energy required for the weekends when there are around 500-600 people and the bar turns into a nightclub.
We were able to achieve a very high seat-to-seat consistency in terms of smooth bass response as well as SPL. The most amazing response from the management was that they were able to sit right next to the speaker and still have a conversation. Not only were we able to just achieve - we exceeded the clients' and designers' expectations both in terms of performance and looks using K-array unique audio solutions. This place is now one of the top 3 places in New Delhi.