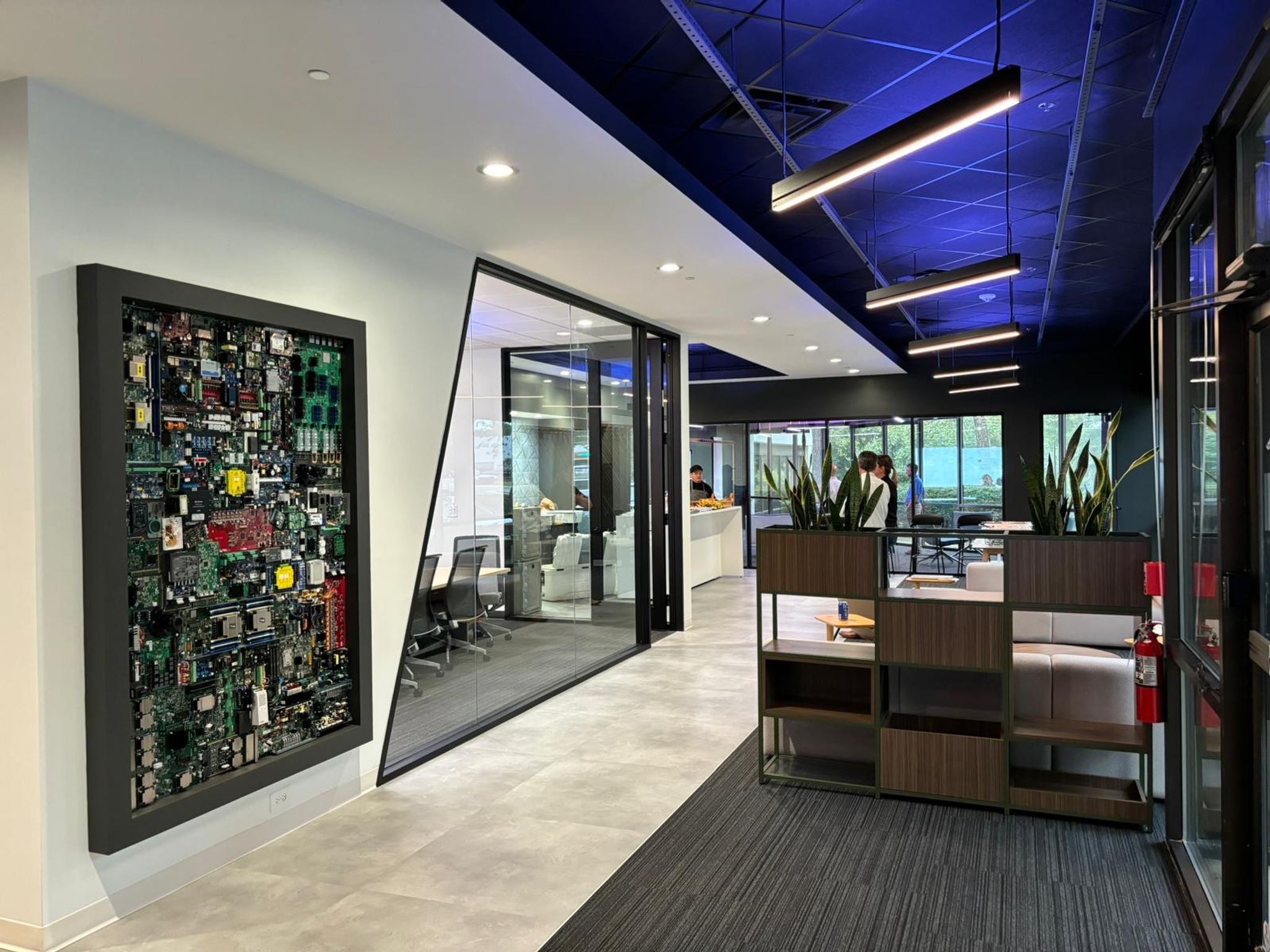 Pavion, a leading US-based integrator of fire, security and audio-visual technology solutions, recently opened its new office headquarters in Raleigh, North Carolina. The goal was to establish a space for Pavion to showcase its cutting-edge technology solutions whilst providing an updated working environment for its employees. A technology-centric workspace would not only benefit the Pavion team but also allow clients to experience, first-hand, the kind of inspiring technology that they could achieve in their own companies through working with Pavion. The project was undertaken in a collaboration between Pavion and IA Architects, who worked together to design and execute a solution based on KSCAPE's innovative RAIL technology.
"When designing and developing the Pavion Raleigh office, we had three critical focuses: Our People, Our Customers and Innovation," explains Kristina VanderBrink, Southeast Regional Sales Director at Pavion. "We believe everything starts with our people - they are the centre of our solutions. The goal was to create a workplace that promotes our team members to come into the office, nurtures collaboration and cultivates a sense of belonging. The biggest requests we received from all our team members when designing our new space were centred around the quality of the installed lighting, the workplace acoustics and providing lots of natural light. Our mission was then focused on finding the right space and the right partners to best incorporate these critical features. That was a driving factor for working with K-array and KSCAPE."
One product in particular stood out: KSCAPE's RAIL, which would ultimately serve as the centrepiece of the integration. Offering both professional audio and tunable white and RGB lighting, the versatility of RAIL made it a clear choice for Pavion. The integrated lighting modes were ideal for the zonal spaces at Pavion. Once installed, the team would have the control, via CASAMBI, to seamlessly adjust the lighting and therefore the atmosphere of each area, whether to enhance productivity during the working day or to create ambience for evening events. Furthermore, the cost-efficiency of using a single device for multiple functions further solidified the decision.
The installation encompassed a variety of spaces within Pavion's new Raleigh facilities, including both formal and informal meeting rooms, personal offices, a lounge and reception area, open-plan workspaces and a Customer Experience Centre. A total of 75 ceiling-hung RAIL units were installed, providing the backbone for the entire system, and ensuring even and consistent coverage of both sound and light throughout the different spaces. RAIL is not only highly capable in terms of audio distribution but also contributes to the overall aesthetic of the office spaces, providing sleek and eye-catching lines of light that further modernise the space. The audio provided by RAIL is further enhanced by the integration of four K-array Rumble subwoofers, specifically in the reception area and Experience Centre.
"We wanted to honour the shape of the space, so opted for RAIL arranged diagonally in the lounge and reception area," explains VanderBrink. "This mirrors the shape of the external wall, something you cannot ordinarily do when designing lighting in an office space."
In terms of other technology, Pavion opted for LG video screens in each of its meeting rooms and personal office spaces, enabling crystal clear playback during video calls and presentations, whilst Poly Studio 2-in-1 microphone and camera units were chosen for their ease of use. In the Customer Experience Centre, a space to showcase Pavion's extensive technology solutions includes a Jupiter wide-screen monitor, adding to the immersive experience established using eight RAIL units with integrated CASAMBI lighting control in an arrangement of four 'L-shapes'. Pavion's unique design philosophy shines throughout the space, crafting a vibrant and immersive atmosphere during evening events with captivating RGB colour displays.
"A key goal of this project was to provide a customer experience centre where we could host customer events and allow our clients to collaborate, design and be inspired in our new space," continues VanderBrink. "We believe that every customer relationship starts with listening and understanding the drivers for each client and what is important to them. There is no "one size fits all" solution or design from our experienced team of low voltage engineers when it comes to accomplishing our customer's vision. Our customer relationship is always our priority because it's where we make the greatest difference for the people we serve. We believe in providing effortless customer experiences and the installation of RAIL within our Experience Centre helps us to achieve this."
The extensive system of RAIL units is powered by Kommander-KA68 amplifiers from K-array, with a dedicated amplifier driving audio to each zone.
Not everyone embraces new technologies, such as RAIL, straight away. One of the principal challenges faced during the project was convincing general contractors who were often hesitant to adopt new technology. However, thanks to K-array and Pavion's training program and project support team, the contractor was successfully guided in adopting this innovative technology. This both resolved immediate challenges and potentially benefitted the contractor with an understanding of new technologies for future projects.
As a result of this visionary integration project, Pavion can now enjoy a modern office and an engaging space to host its partners and clients. This office now serves as a hub for integrators with the added appeal of resonating with high-end architects, which is a benefit within the industries Pavion operates.
RAIL x 42
Symmetric Tunable, Direct light
Diffused Tunable, Indirect light
24V with CASAMBI controlling
Audio version
Black
Suspended installation ( Susp. H2,6m)
RAIL x 12
Non-audio version
RAIL x 3
Symmetric Tunable, Direct light
Diffused RGBTunable, Indirect light
24V with CASAMBI controlling
Audio version
Black
Suspended installation ( Susp. H2,6m)
RAIL x 18
Diffused Tunable, Direct light
Diffused RGBTunable, Indirect light
24V with CASAMBI controlling
Audio version
Black
Suspended installation ( Susp. H2,6m)
We embarked on a mission to redefine the office experience and to put it on show here at Pavion via a groundbreaking fusion of sound and light technology. Since we share the same goals, working with Pavion has been a joy and a journey we can't wait to share with clients who are looking to re-design their office to be an inspiring and productive space. The entire system sounds great, from the Experience Centre to the conference rooms for video calls and the project presents a strong message about well-being but also about reducing costs with streamlined installation and lower maintenance.