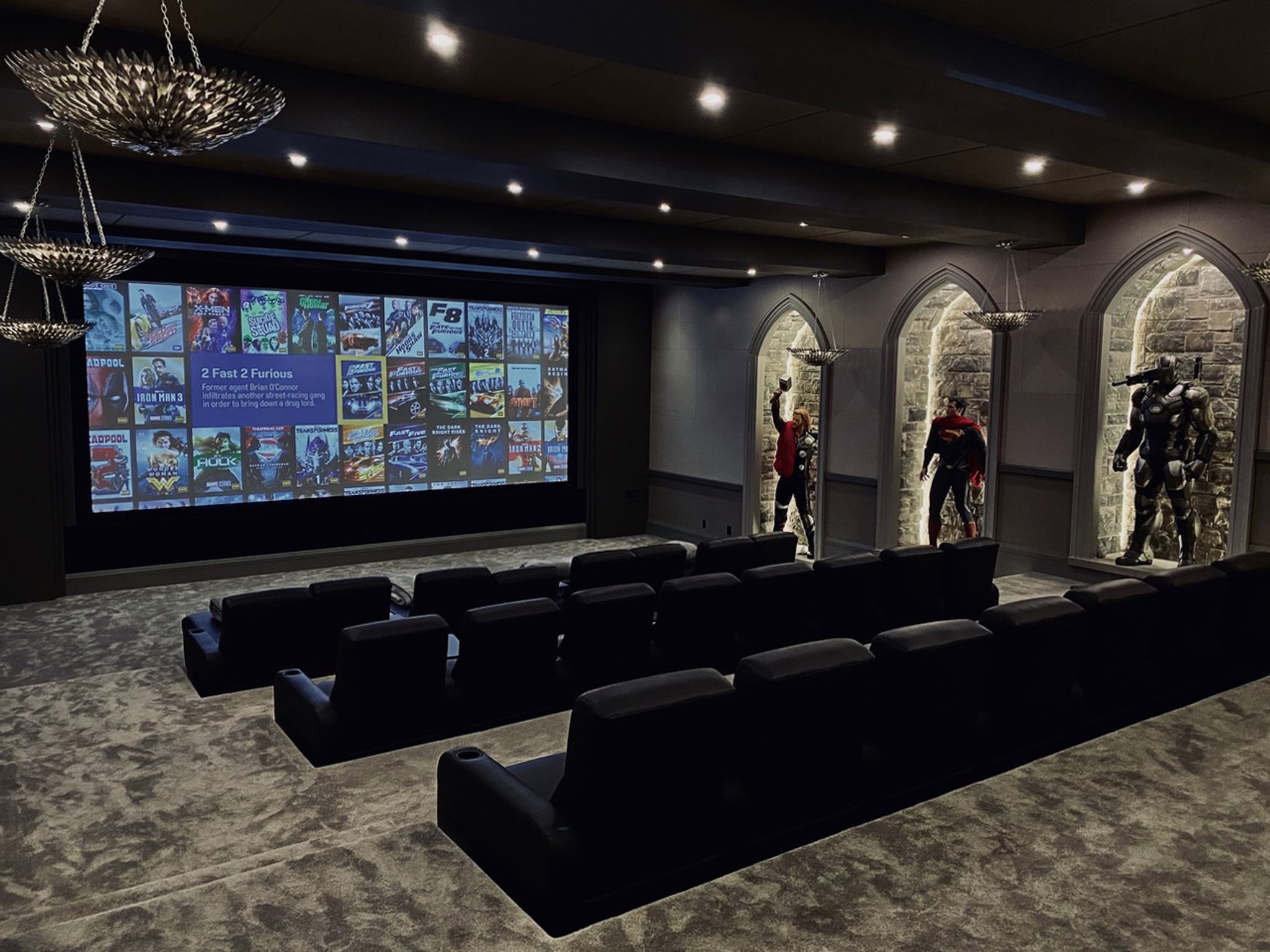 Gravity Tech Home Automation worked with K-array to design and install an outdoor audio system, as well as a home theater and AV system in a Private Luxury Estate. Gravity Tech chose to use K- array for this Private Luxury Estate in Ontario audio system because of the outdoor capabilities of K-array speakers and compact size for the interiors which could blend easily into the exquisite environment. Control 4 is at the heart of a sophisticated home automation that not only includes an outdoor audio system design, whole-house AV system and home theater but also lighting, security and advanced controls such as automated shades and water shut-off capabilities.
The entire backyard of the property includes a pool, cabana, patio, a lounging area, and even the veranda of the owner's master bedroom where there is a hot tub. Two Kobra-KK52 together with Rumble-KU210s were a perfect choice to meet the sound coverage required for the outdoor area. In order to achieve the necessary system coverage results with the original outdoor audio system that was specified, the design called for 20 satellite speakers and four subwoofers. However, Gravity Tech was able to simplify the system by installing four of K-array's Python-KP102 line array speakers, along with two Rumble-KU212 subwoofers for low-frequency support. It created the feeling of dedicated audio zones by the pool and the power to turn it up for special occasions.
Concerning the indoor home theatre there's a lot of challenges that system integrators face such as the loss of cohesive audio in the larger rooms. In order to create that breathtaking immersive audio experience, Gravity Tech installed three Thunder-KSC18P subwoofers and five Thunder-KMT12P. The use of 18-inch subwoofers is fairly unique in a home environment but once you experience it, you will never go back. The passive Thunder-KSC18P utilizes a single 18-inch high-excursion woofer in a small bass-reflex cabinet. Kayman-KY102s guarantee an optimal and uniform audio diffusion of a movie where each breath or inflection of the voice of the actors' narration can be so clear.
"The products look good while blending into a range of indoor and outdoor environments. We like the combination of the company's industrial designs, slim, room-friendly footprints, and array of color choices helps to ease the concerns of homeowners, interior designers and architects that may be skeptical of having installed AV systems in home spaces."
Going into the home theater, especially using the line arrays, you're able to cover very large distances. What you would experience normally (in a room of this size) is a lack of quality audio as you move from the back to the front of the theater. Usually, one central spot is dedicated as the optimal spot of the theater, with K-array, we were actually able to create an entire audio experience no matter where you sit in that theater