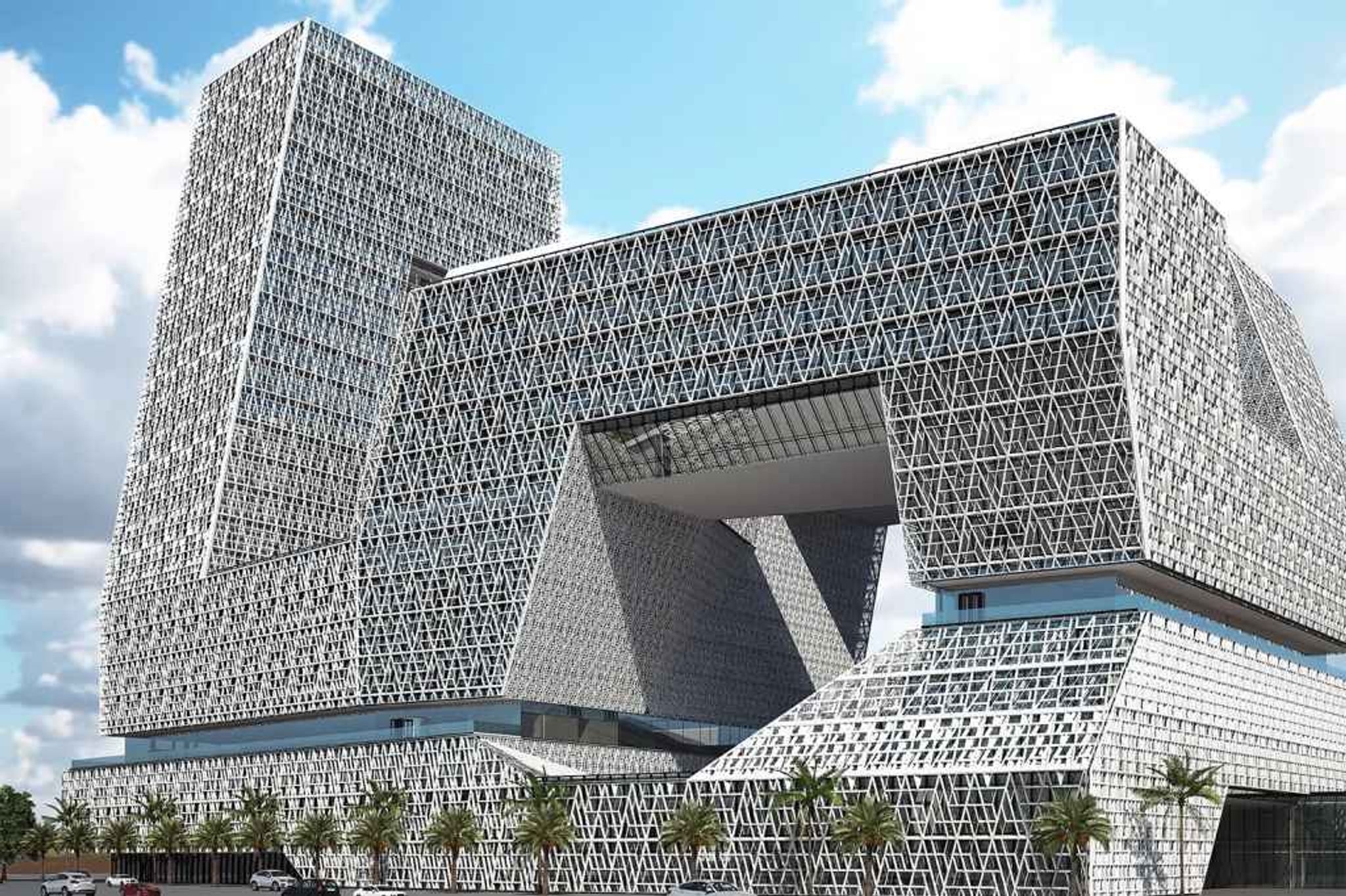 A new 24-storey corporate building in Saudi Arabia asked the consultant and integrator for the 'best of everything'.
Saudi Arabia's Basic Industries Corporation, known as SABIC, is a Saudi chemical manufacturing company, 70% owned by Saudi Aramco. As part of an expansion programme, the company has built a huge new building in the city of Jubail, covering a total land area of 66,000 sq m, the building will eventually accommodate more than 3,600 employees.
It was built using SABIC steel, and 77% of the building's mechanical, electrical and finishing works were made locally. The scale, as we've come to expect in Saudi Arabia, is breathtaking. The huge complex is home to a 24-storey tower, two 15-floor and 13-floor office blocks, a data centre, an auditorium for more than 1,000 people, a mosque to accommodate 1,000 worshippers, and open workspaces and areas that can accommodate more than 1,500 people.
The building is LEED Gold certified for energy efficiency and uses more than 1,500 solar panels to generate the entire energy used in lighting the recreation centre and parking lots. Visitors and staff can eat at a two-floor cafeteria that accommodates up to 1,500 employees, along with 45 refreshment corners distributed in the various sections. It's so vast it even has its own dedicated app (SABICOne) to help visitors and employees navigate their way around the various areas and facilities. With the financial backing you'd expect from one of the world's most profitable companies, this new site has been completed on a 'best of the best' philosophy when it comes to AV technology too.

First to be engaged from an AV standpoint was MiX Consultancy, who were selected by the M&E consultant (DSA engineering) and architect (Henning Larsen Architects) to join a design team to put together an initial design (the initial RFP dates back to April 2016). What was the original client brief to MiX? "It was 'we want to be the best in breed', 'we want the best of everything', 'we want the best of the technology'," says Sebastian Day, director of AV workplace services, MiX Consultancy. "They gave us use cases of what they wanted to get out of the spaces and how the building was going to be used. Then it was very much down to us to present solutions and recommendations back for the client to sign off."
What did the client want the AV to achieve in this project? It was several things, including the wow factor says Day. Because the initial plan was completed pre-Covid it included a requirement for technology to accommodate face-to-face meetings. Post-Covid this had to change explains Day, "Even though we had video-enabled every room (in the first design), we later put full Cisco video conferencing and Microsoft Teams in every single space. Another key requirement was around the different types of spaces, which had to fit in with SABIC's culture, especially in making the technology work for some of those requirements. They had a lot of training and development laboratories in the plans, and we also needed to look at how they would collaborate and communicate outside of the building. The biggest feature was the auditorium space, it was a real showcase piece, they wanted to be able to deliver very successful keynote talks and deliver them in a very high quality way."

MiX was re-appointed some five years later once the majority of the building work had been completed to look over and modernise their initial design, as part of this second phase MiX worked with SABIC and Shapoorji Pallonji (the building contractor) to choose a suitable system integrator. After a tender process, Saudi-based integrator Samir Group, a company with a 70-year history, was chosen. Samir had the task of installing 229 rooms with AV, including 84 meeting rooms, 43 GM offices, 14 VIP offices, 38 classrooms and 34 collaboration spaces. As well as digital signage spread across 57 screens around the building. This vast amount of work was all done within a very tight timescale too, Samir Group began in July 2022 and everything had to be completed by a set date in November. The presentation rooms all feature Sharp/NEC screens ranging in size from 50-in to 98-in in LCD format and 137-in in LED format, wireless presentation is provided by Barco ClickShare, and video is supplied by Aver conference cameras. The back-end is provided by Lightware switchers and extenders. Audio is via Biamp meeting room bundles, which include Devio SCX 400 conference room hubs, ceiling microphones and ceiling speakers. Room control is handled by AMX Modero 10-in touchpanels and NX-220 control processors. All meeting rooms and presentation rooms can adhere to a demand for BYOD if required and feature an Extron Cable Cubby 700 in each meeting room table.

An effort was made by MiX to standardise the AV whenever possible: "We worked through the floor plans with the client, and where they were similar, we looked to standardise. Obviously from the experience, and for consistency and training purposes it all has added benefits if you can standardise as much as possible across these spaces," adds Day.
The classrooms follow the same AV path, with added Sennheiser SpeechLine receivers, handheld mics and Ampetronic C52 hearing loop drivers, and feature Vaddio EasyIP 20 cameras instead of Aver. Digital signage and IPTV is handled throughout the building by Vitec, and digital signage displays are by Peerless-AV.
The auditorium offers the wow factor in spades, with the centrepiece being a 28-metre by 5-metre videowall featuring 46 x 15 Sharp/NEC 1.9mm LED tiles. The production aspect of the auditorium is all run on the Newtek TriCaster 2 Elite platform and features NewTek 4Kp60 PTZ cameras, all using NDI to transmit signals. With a client wanting the best of the best, was it hard for MiX to not have any limits? "With the auditorium how far do you take it?" says Day. "I think we kept ourselves grounded in terms of what they wanted to achieve from the space. The key thing was flexibility, they wanted to integrate with Cisco, we brought in NDI to really give them that flexibility, but also some future proofing. There's a lot of money to spend in that space to perhaps in three years have to put new technology in to meet new requirements as the space changes. We weren't there to make them try and spend as much money as possible. We're just there to make sure the spaces worked for them. And they continue to do so for five to seven years."
Audio in the auditorium is provided by K-array line array loudspeakers and amps, mics are a mix of Sennheiser handheld, lavalier, and gooseneck tabletop models. Control is via a mix of AMX and Cisco 10-in touchpanels. Video calls can be sent up to the big stage, and content can be recorded via an NewTek Remote Storage SNS 8-bay unit and streamed out to the internet if needed. Content on the giant videowall can be manipulated if required using a Dataton Watchpax 60 media server, and the display can be split into multiple different layout formats. A cueing system for presenters on the big stage is supplied via a MicroCue3 System, and four 50-in Sharp/NEC displays work as confidence monitors. Audio in the auditorium is mixed with an Allen & Heath mixer, with audio processing supplied by QSC. The 1,200 auditorium is used for both internal-only and external events, and even has its own control room nearby. With such broadcast-level facilities, it has become a powerful communication and broadcasting tool for SABIC moving forward. A project of this magnitude normally comes with some challenges, and this installation was no different. "There were three teams working in parallel, every team had a dependency – first a civil job had to be done, then the electrical job had to be done, then our job had to be done. Then it goes back to the civil team and they had to finish the closing works, and then we can install our devices. It was in loop and that was the biggest challenge," says Mirza Mohibulla, engineering manager, Samir Group.
Putting together such a large project, in a tight timescale would be difficult enough for Samir Group alone, were it not for the addition of the Covid pandemic and then the subsequent supply chain crisis that followed it. "You're talking about almost 80 different suppliers, with a project of this magnitude you also need to hire subcontractors, so you're communicating with different suppliers and arranging all the supply chain," says Waddah Elrayyes, director, Samir Group. To manage this, Elrayyes instigated an early morning meeting every day on-site with his logistics department, "We had to make sure if there were any obstacles or issues when it came to delivery, we could overcome them because there was no room for delay. Delay was not acceptable on this project."
Like many projects that have happened in the last two years, the supply chain has seen integrators and consultants have to become more expansive when it comes to their choice of preferred manufacturers. "One of the big drivers here was not what we would like to do, but what could we actually do with what's available?" says Ivo Kostandiev, lead system designer, MiX. Luckily the majority of the changes were not to critical pieces of equipment he adds: "All the major components that we specified were all there, it was an extender here and there, nothing that would actually fundamentally change our design." The combination of the supply chain crisis and the strictness of the project's deadline meant that the only way the videowall, which was so crucial to the finished auditorium, could be delivered on time was to airlift the LED modules from China and the steel structure from Germany. The cost of that alone in dollars ran into six figures.
But there is no doubt it was worth it, the end result is a stunning piece of architecture and AV design combined, which will serve SABIC and its employees well for decades to come. The desire was for the 'best of the best' and it delivers that and more. The result is even more incredible when you find out that the collaboration between the consultant (MiX) and the integrator (Samir Group) was done remotely without the presence of the consultant on site. "This highlights the power of AV technology in realisation of a common dream which spans millions of miles across the globe," concludes Biju Abdul Latheef, national sales manager, Samir Group.
Read the article on Inavate