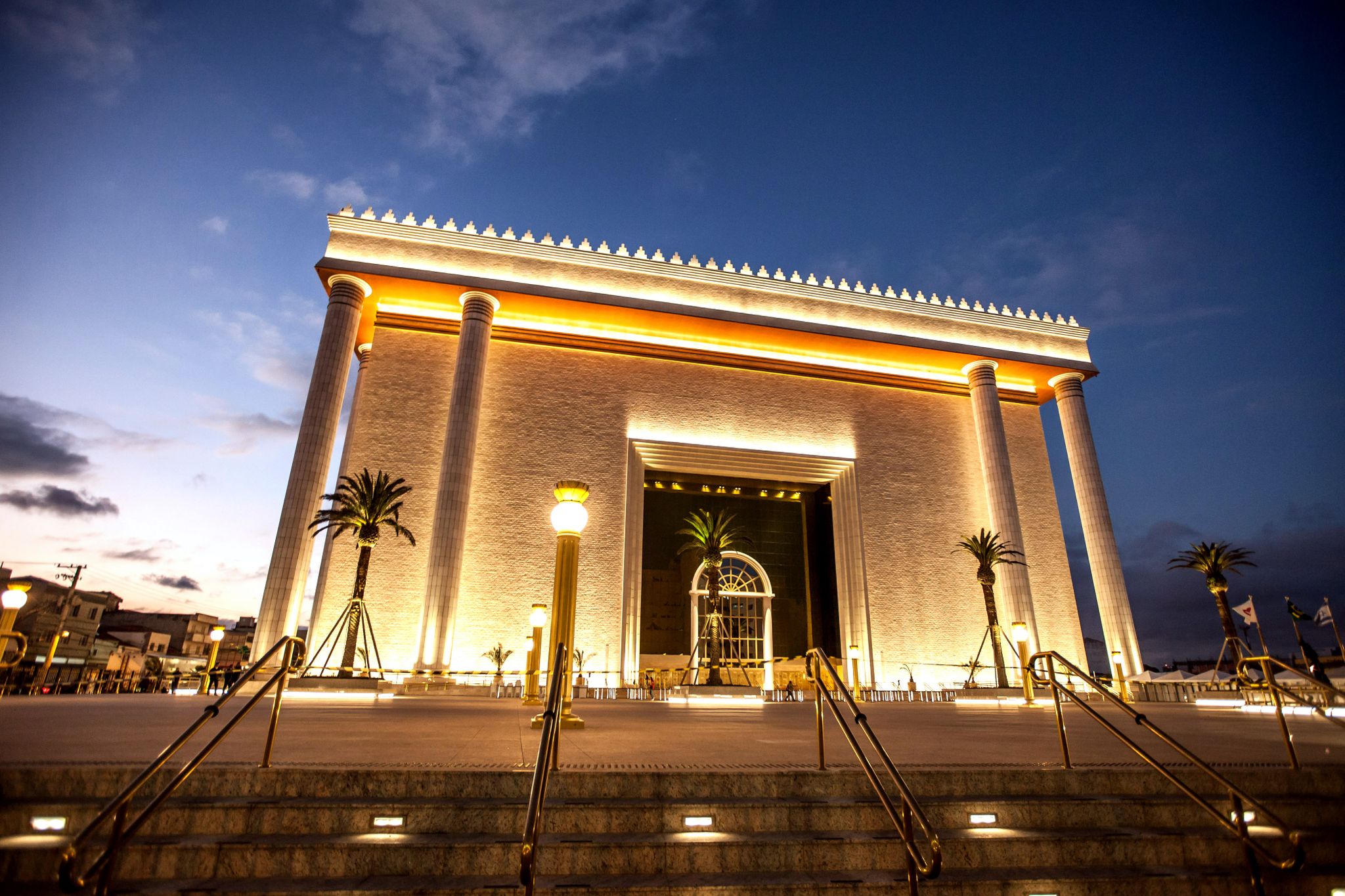 Constructed by the Universal Church of the Kingdom of God, Solomon Temple is a spectacular landmark in the city of São Paulo and is a replica of the First Temple built by Solomon built in the 5th century BC but with increased dimensions. Considered the largest religious building in Brazil, the mega-church seats 10,000 worshipers in its sanctuary and stands at 55 meters (180') tall, the height of an 18-story building.
With an area of approximately 100,000 square meters, the 11-story complex includes the main sanctuary, 36 classrooms, radio and television studios, a museum about the original temple, 84 apartments of differing sizes for bishops and pastors of the church, a helicopter landing pad and a garden. Its rich design is detailed down to the use of very high technological means of communication, which are intended to be hidden from visitors' eyes. In order to to maintain that standard along with reproducing the gospel with faithfulness, clarity and intelligibility, the church engineering team's choice was unanimous: K-array.
In the sanctuary, the main PA consists of 42 Mugello-KH4 and 6 KO70 speakers installed 18 meters high in acoustic niches above the ceiling, hidden by perforated plates specially designed to not interfere with sound propagation. 24 Python-KP102 line arrays are used as sidefills at the altar. Stage monitoring was covered with 22 Python-KP102, 6 KA40, 2 Mugello-KH4, 2 Thunder-KMT18 and 2 Thunder-KMT18P for the celebrant bishops and pastors.
The system used as the FOH reference monitor is 2 Kobra-KK50, 1 Rumble-KU36, 1 KA7-7 amp and a KF12MT. The outdoor main entrance is equipped with 6 Python-KP102, personalized in the same color of the stones from Israel and installed within the wall. They are driven by a KA40 amp. In the conference rooms, custom painted Turtle-KRM33P speakers have been positioned on the ceiling providing controlled horizontal dispersion and extended frequency response to broadcast the sermons around the building. Solomon's Temple is the first Temple in Brazil to achieve LEED (Leadership in Energy and Environmental Design) Certification, an acknowledgement of the "green seal" enterprise. K-array's compact and lightweight speakers have contributed greatly to the energy efficient features.
Universal brought us a big challenge: to install a sound system in this huge area, using invisible, light and ecologically correct sound equipment. Large indoor places require a lot of caution and study, because they usually have big reverberation and acoustic reflections, making it difficult to understand the voice. We presented the architect and directors of the build a detailed study where our solution showed a high level of intelligibility and clarity, besides counting on a great SPL left.