Butlin's Bognor Regis Waterpark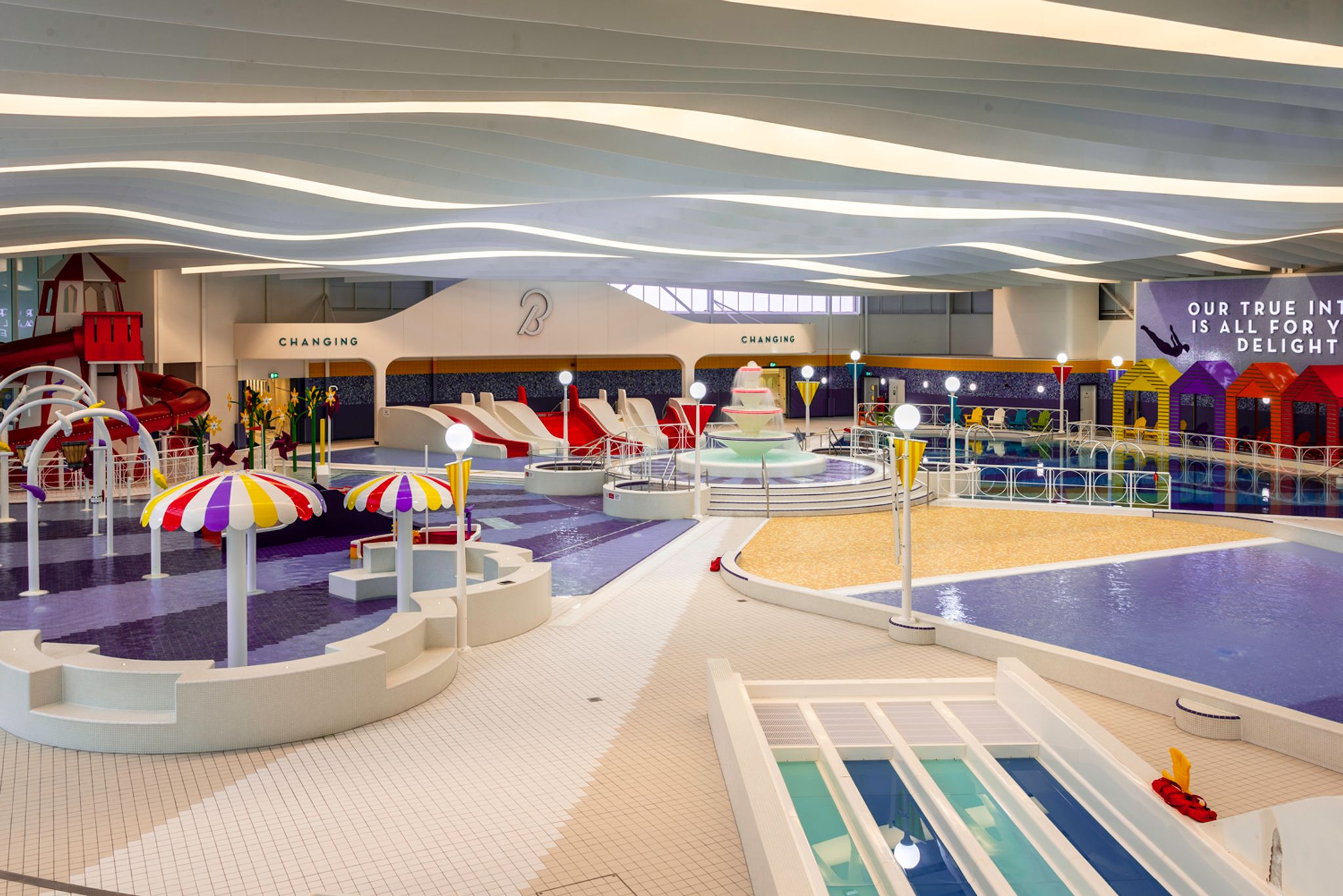 The new Splash Pool at Butlin's Bognor Regis has been designed to provide family entertainment for everyone and to complement the Wave Pool's extremes of calm and exhilarating moments, the developers wanted a sound system capable of matching dynamic range and clear intelligibility – but insisted that it should not be seen. Ruling out traditionally shaped loudspeaker enclosures left a clear choice for Milton Keynes-based audio, lighting and video specialist Technical Arts Ltd, and led them to propose professional quality K-array speakers with an aesthetic that would allow the speakers to blend invisibly into the environment.
As part of a £40m investment that has introduced a new 6,300 sq. meter pool capable of accommodating up to 950 guests at any one time, several areas were identified that needed updated audio systems to cater for simple background music over multiple zones, but the real challenge came with the design of the main pool area sound system, and specifically the Wave Pool where ambient sound levels can be very high amidst a generally reverberant environment.
The clients wanted a system capable of high intelligibility to play custom music stings when the wave pool event is triggered, drawing people into the wave pool and also giving others a chance to move to quieter areas to please all the people all the time. In addition, the audio system had to be capable of running their pool parties and the adult weekenders that feature DJs, and so it needed to be of high quality throughout the operational range.
Crucially, they didn't want to see the sound system to not detract in any way from the Splash Pool's boldly colorful design. On each of the four lamp posts that flank the wave pool, a pair of Kobra-KK102 white line arrays were installed to form a two-meter vertical column. The inner two columns were horizontally rotated inwards to focus on the pool, with additional rear firing Kobra-KK52 line arrays covering the small stepped areas on either side of the wave pool. The outer two columns were rotated slightly outwards to improve coverage across the wide beach area.
The line arrays are supplemented by four Thunder-KMT18P subwoofers located in the front wall above the wave machine giving three sources to align into one wavefront, and providing solid low end and a full frequency response. The complete speaker system is powered by two Kommander-KA84 4-channel amplifiers housed in a central equipment rack.
I'm delighted with what's been achieved. It was a difficult process, and a difficult environment because of the sheer size and scale of the project. We worked closely with the electrical contractor and Kier Construction so it was truly a collaborative effort that has resulted in on-time, on-budget project delivery despite the technical and logistical challenges.