David Geffen Hall at Lincoln Center of Performing Arts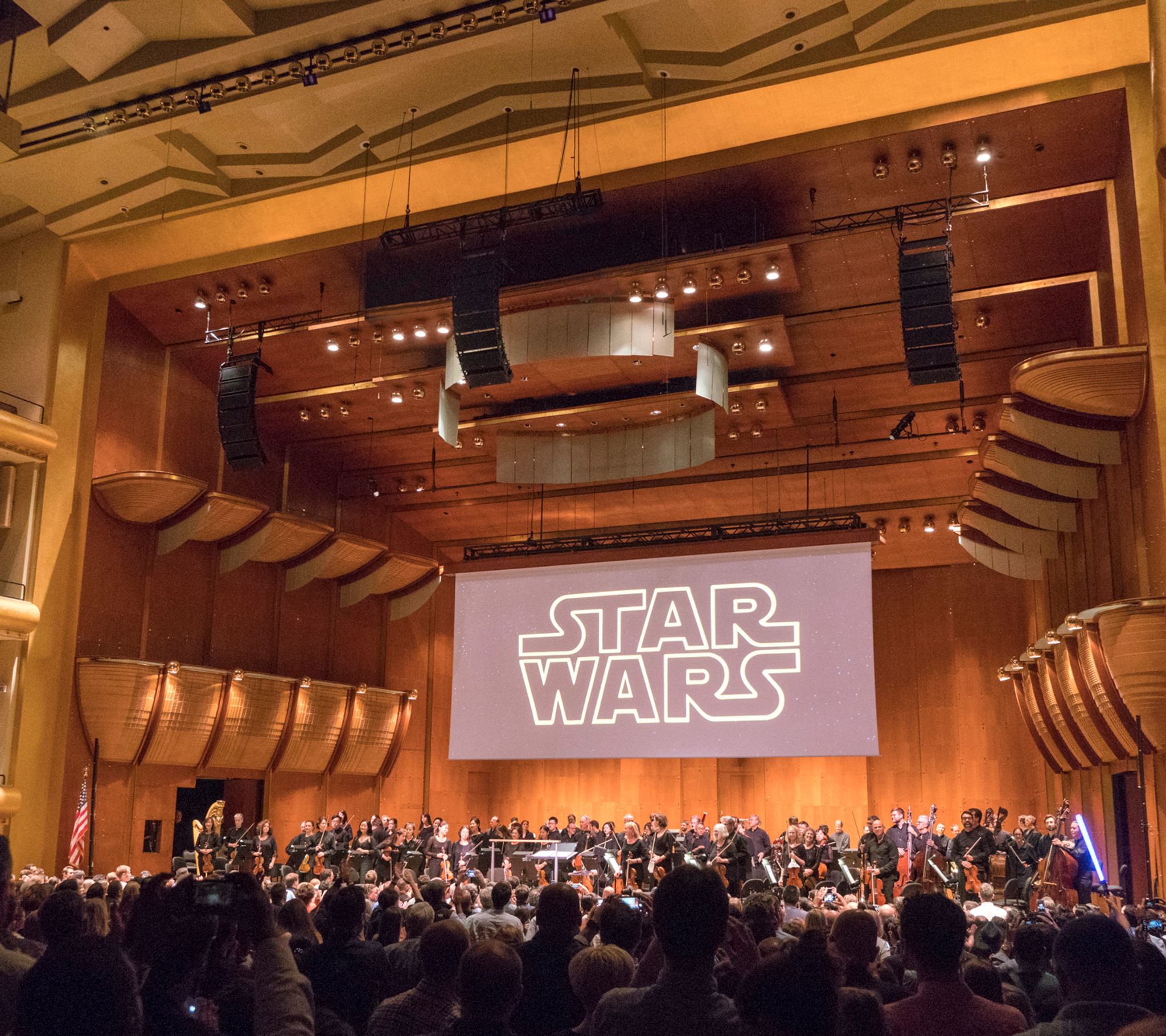 The New York Philharmonic presentation of four Star Wars films – A New Hope, The Empire Strikes Back, Return of the Jedi, and The Force Awakens – at Lincoln Center in Manhattan was presented in surround at 2,700-seat David Geffen Hall, and consisted of the film screenings accompanied by John Williams' iconic score performed live by the 100-plus piece orchestra conducted by David Newman. One of the biggest tests for the audio team was to make the concert hall feel more like a movie house; ensuring the dialogue was clear, the effects physically palpable, and that the orchestra was able to successfully perform the soundtrack without "blowing people out of their seats."
Among the aspects of the sound design requiring a great deal of consideration and planning were an orchestra clocking in at about 92-plus dB, the necessity of placing surround elements (as well as subwoofers) in close proximity to audience members, and maintaining sonic imagery in locations presenting far greater challenges than the average movie theater.
After trying many different speaker configurations, K-array proved a be key to coverage because of its electronic beam steering and was ultimately selected to comprise the main PA along with the venue's permanently installed subwoofers. The main system center cluster consisted of six Mugello-KH2 active line array elements flown at the center of the stage proscenium and flanked by a cardioid subwoofer on each side. Left, center and right (LCR) main arrays, also flown at the proscenium, were also comprised of Mugello-KH2s, each with seven elements.
For rear surround a dozen Pinnacle-KR102 portable systems were employed with three Pinnacle-KR102 systems per seating level, placed left, center and right, joined by companion subs and a satellite array for emphasis on higher frequency content. The compact sub elements of the Pinnacles were key in bolstering low-end reinforcement, particularly that of FX and source material.