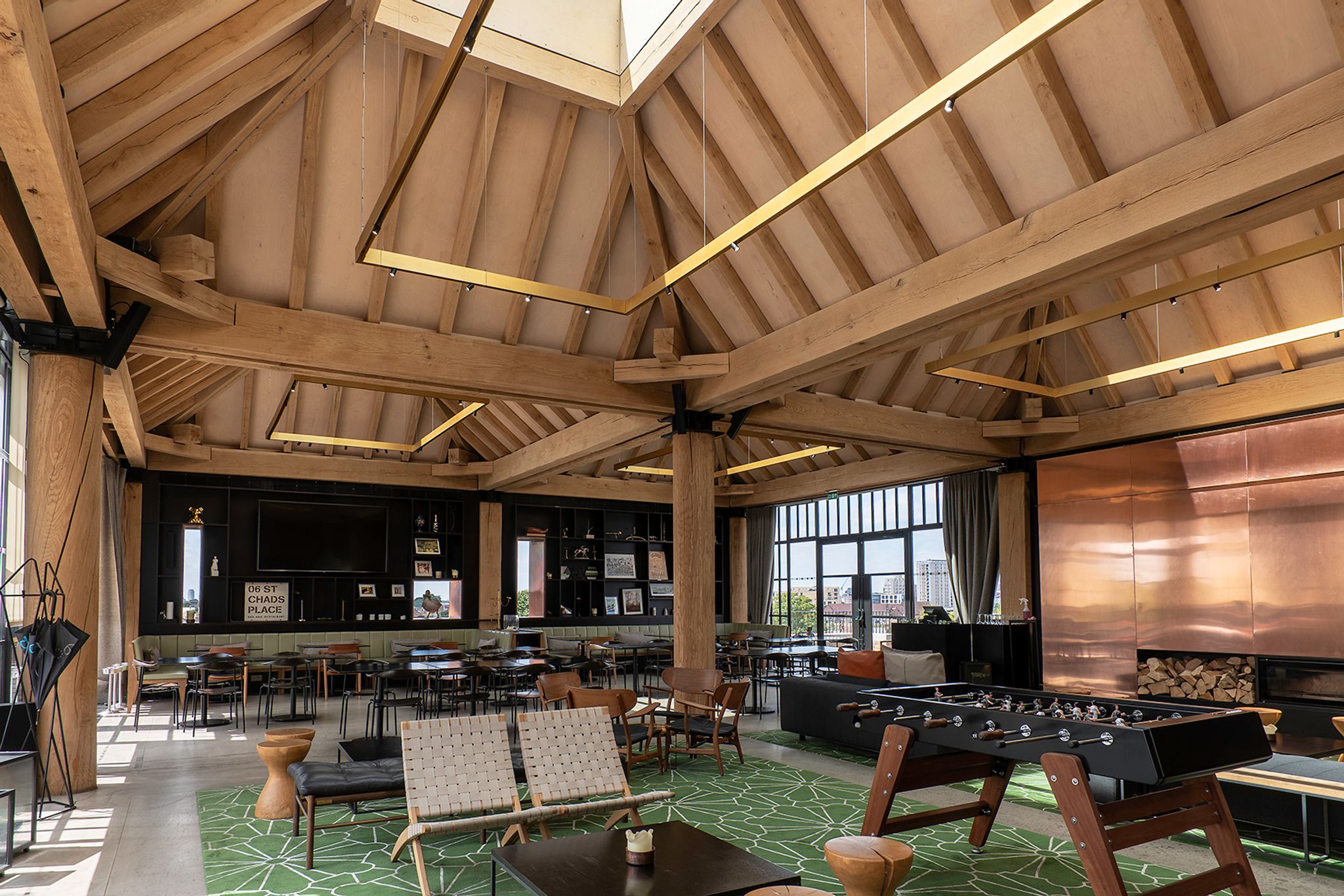 Originally conceived as a social space for Brixton, Upstairs at The Department Store was initially opened to friends, family and the local community, and as popularity rapidly grew, Upstairs Brixton launched as a laidback rooftop members' club in November 2018 with a new and aesthetically pleasing sound system from K-array. Offering a huge selection of sensory entertainment in addition to a full dining experience served on the stunning rooftop dining terrace, Upstairs Brixton regularly hosts member events such as live performances and DJ weekends, comedy, gin and whiskey tasting, launch parties and orchestral recitals – all requiring high quality sound reinforcement in varying degrees. When the previous audio system was deemed to be unserviceable, with no potential left for expansion, the owners turned to integrated specialists Flux London for a solution that would totally modernise the venue, and give them a flexible configuration that would allow several different sources to be routed into combinations of zones throughout the venue depending on the event taking place.
Recognizing that a high-quality line array speaker system would be required from an acoustic perspective, K-array presented an obvious choice in terms of sympathetic aesthetics, and so the Italian brand's UK distributor 2B Heard was brought in to further develop the solution. Although the bar and restaurant occupy essentially the same space, the objective was to treat them as quite separate audio areas, each with their own independent sound level so that the restaurant would generally be quieter than the bar. As befitting a multi-use venue, audio levels change throughout the day, taking in lunch service, after-work drinks, and into the evening's eating and drinking, and when club DJs are invited to play in the bar SPLs increase significantly at weekends and into the early hours of the morning – and that required a system capable of transitioning from background sound to full-on banging beats, and all managed from a simple app-based control system. Close attention was paid to the speaker locations, with a lot of time and consultation focused on perfecting the visually sympathetic and acoustically correct positioning.
In order to identify the optimum speaker positions and accurately predict coverage, 2B Heard Director Dave Wooster provided an EASE design which allowed Chaffey and the installations team to place speakers in key areas to even out the sound field, and provide more audio separation between the bar and restaurant zones. In the main bar four Python-KP102 I column arrays replaced the original speakers, the one-meter columns with their 12 closely-spaced drivers providing focused long throw coverage of the bar area. These are supplemented by a Thunder-KMT18P high power passive 18-inch sub and a Rumble-KU212 slim profile dual 12-inch line array sub, adding up to give plenty of low-end punch when needed. Meanwhile, providing coverage of the restaurant and lounging area, six Python-KP52 variable beam line arrays together with two Rumble-KU212 dual 12-inch subs deliver an altogether more muted ambience, but are still able to effortlessly crank up the volume to party levels.
The result was seamless coverage of the three separate areas allowing for the changes in SPL that the venue required throughout the day – from the quietest part of the day and with plenty of headroom to spare, up to a level that is never likely to be exceeded. Unusual for an entertainment venue, all the K-array columns are constructed from stainless steel housings, which not only gives them a modernistic, high tech look, they are also sure to endure. In the newly equipped rack are a Kommander-KA84 4 x 2000 watt DSP amplifier and two KA24 4 x 300 watt DSP amplifiers powering the entire speaker system. Client George Squire, Facilities Manager at Upstairs Brixton, concluded about the installation: "Sound in any hospitality environment provides atmosphere – it's just essential. We knew the K-array speakers were slimline but I think they look great – they are so discreet that sound appears to come from nowhere."
K-array's slim line arrays have succeeded in bringing out the best of the intelligible speech typical of a commercial column but with the musicality of larger mainstream line arrays, and with an aesthetic that really works in such a design-led venue as Upstairs Brixton, which has a close association with the neighbouring architects firm that designed it. We also had to re-use some of the previous speaker locations, which constrained us slightly – some of the speakers are mounted on structural pillars made of Green Oak which required specific permission from the main architectural partners – but since K-array's discreet profiles and multiple bracketing options allowed us to optimise our fixing methods these challenges were easily overcome.