Connecting Audience and Speakers Through Sound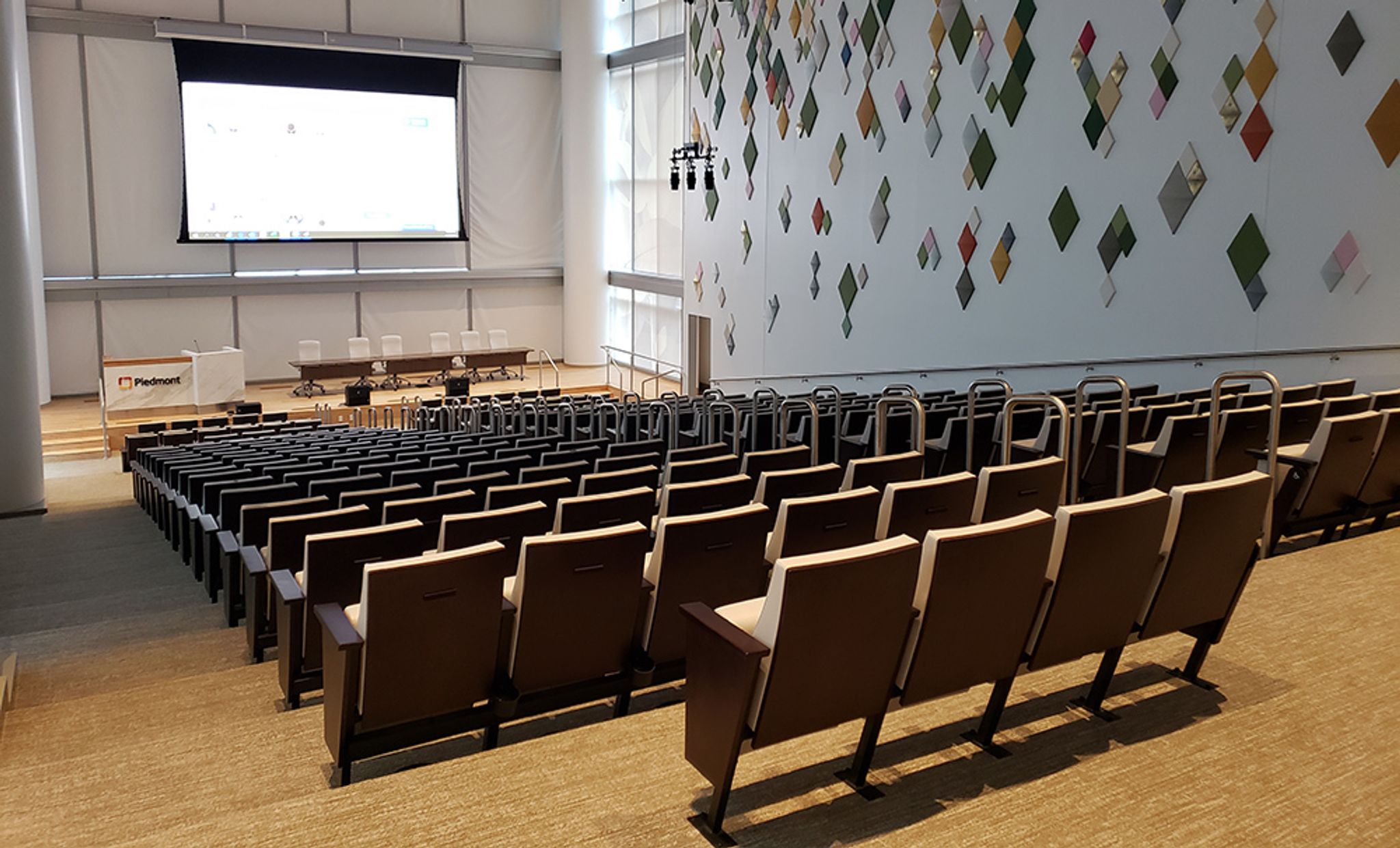 When hosting conferences or events, you need reliable sound that delivers a dynamic and engaging audience experience. It takes specialist expertise to create an auditorium that gives everyone the same high quality of experience, no matter where they are. An auditorium's purpose is to enable an audience to see and hear and when you get the technology right, it ensures every audience member enjoys the same great experience. Auditoriums have multiple uses and are often also used for musical events, so the same audio system must be adapted to meet the requirements of reproducing high-quality live sound.
We love this type of challenge, and we have solutions to fit all sizes and budgets. We've rounded up our favourite projects that demonstrate how K-array's sound can create engaging audience experiences no matter the environment.
The Royal Society of Chemistry, London
The Challenge
Key to the library's attraction as a venue – prized by users for seminars, conferences, lectures, award ceremonies, fine dining and private functions – is its integrated audio-visual facilities and, taking an opportunity to benefit from the latest technological advancements, the RSC decided to upgrade its audio systems in order to provide better coverage and improved intelligibility to meet the growing requirements of its corporate clients.
Previously the venue had issues with dead spots and feedback due to the placement of the speakers, and decided they needed a radically different solution. They were looking for better sound quality because not only does audio technology push forward strongly year to year, but there was a growing demand for a better experience from guests. Lack of visual impact was also a requirement, and there were constraints imposed by the building's Grade II listed status, meaning that they weren't able to wall mount the line arrays.
The Solution
In consultation with the Torpedo Factory Group (TFG) and following an on-site demo from K-array's UK distributor 2B Heard, the RSC facilities team, headed by Grant Verrell, discussed options for improving audio quality to enhance the venue's various activities include product launches, presentations, conferences and Q&A sessions.
The K-array loudspeaker system was modelled by 2B Heard Director Dave Wooster and designed to provide cohesive full range speech and music reproduction for the large central overhead projector screen and two supplemental HD monitors on either side of the room. The acoustic design instead integrated into custom TFG floor stands housing two Rumble-KU26 subwoofers and supporting a one-metre high Viper-KV52 line array above. This arrangement was replicated on each side of the room giving them a far more cohesive result. In addition, half-metre high Viper-KV25 line arrays were positioned discreetly under the podiums supporting the LCD screens that flank the library.
Happy Customer
"There's no latency at all, which is really important when it comes to video conferencing and the sound balances out perfectly," he added. "Compared to what we had before, it's phenomenal. We had two different sound structures for the same room – we used to get feedback problems and it was hard to balance the sound out. Sound quality from the K-arrays is honestly second to none from such tiny little speakers that you can barely see. We now have virtual cinema quality sound in a highly flexible event space.The sound quality is honestly second to none from such tiny little speakers that you can barely see. We now have virtual cinema quality sound in a highly flexible event space."
Grant Verrell - Royal Society of Chemistry Facilities Manager
Atlanta Hospital Auditorium
The Challenge
Piedmont Atlanta Hospital is a leader in patient care that has helped the Atlanta community get better and stay well for more than a century. Piedmont Atlanta combines a personalised approach with innovative technologies to deliver treatments that set a new standard for excellence in care. That is a very important criteria for a health facility.
The modernity of the building, which sits at street level between the major cross points of the entire campus, features an avant-garde style design with a 40 foot high ceiling and an auditorium space of 45 feet by 90 feet with two walls of full glass. The auditorium is a highly functional, important area for medical conferences in Georgia and the location is idyllic for its vocal source point.
The Solution
For optimal speech intelligibility ensuring the same listening experience to all 240 audience members, every seat from the first row to the last has its own slim Lyzard-KZ14, this is aided by the design of the conference space to re-create accurate speech performance. To enhance the low-frequency spectrum and add warmth throughout the space, fifteen Truffle-KTR24 are hidden throughout the main audience area. These are reinforced by two Thunder-KMT12P. K-array USA, supported by 1Path, the technology partner designed and installed a conference room that gives a greater focus on the speaker and less aesthetic distractions for an overall improved learning experience
Nevada Supreme Court, Las Vegas
The Challenge
The Nevada Supreme Courthouse in downtown Las Vegas features a 72-seat courtroom with wood panelling, red velvet curtains, and red stadium chairs to give the courtroom a distinctive appearance. Given that audio plays a critical part of court proceedings, the courthouse required a top-grade system that could accommodate good sound reinforcement, audio recording, audio streaming, assisted listening, video teleconferencing and room overflow.
The Solution
Conference Technologies was brought in to confront the challenge of balancing high-quality audio for both in room and out of room feeds. The local audio system comprised three main zones: the bench, which includes the seven Justices and two clerk locations; the well, which includes the Lectern and attorney table area; and the gallery where the public sits. For the bench area, each of the seven Justices has a Lyzard-KZ14 mini line array. The Lyzard's were mounted right on the bench and allowed the justices to receive great audio without taking up any working surface.
The domed ceiling of the well area made it impossible to utilise ceiling speakers that are typical for this configuration so Conference Technologies installed three colour customised Lyzard-KZ14 loudspeakers and incorporated them into the front of the bench. The end result is that the court is very pleased with the system and has received great feedback from the public and the attorneys that have cases in the Supreme Court.
Happy Customer
"Challenges arise when you have a large open space that needs efficient audio reinforcement, while providing high quality audio recording, streaming, and far-end audio. By utilising the Lyzard speakers, we were able to achieve a distributed audio system allowing us to raise the audio pick-up on the recording and streaming without sacrificing the in-room sound reinforcement."
Adam Lofredo - Director of Justice of Conference Technologies