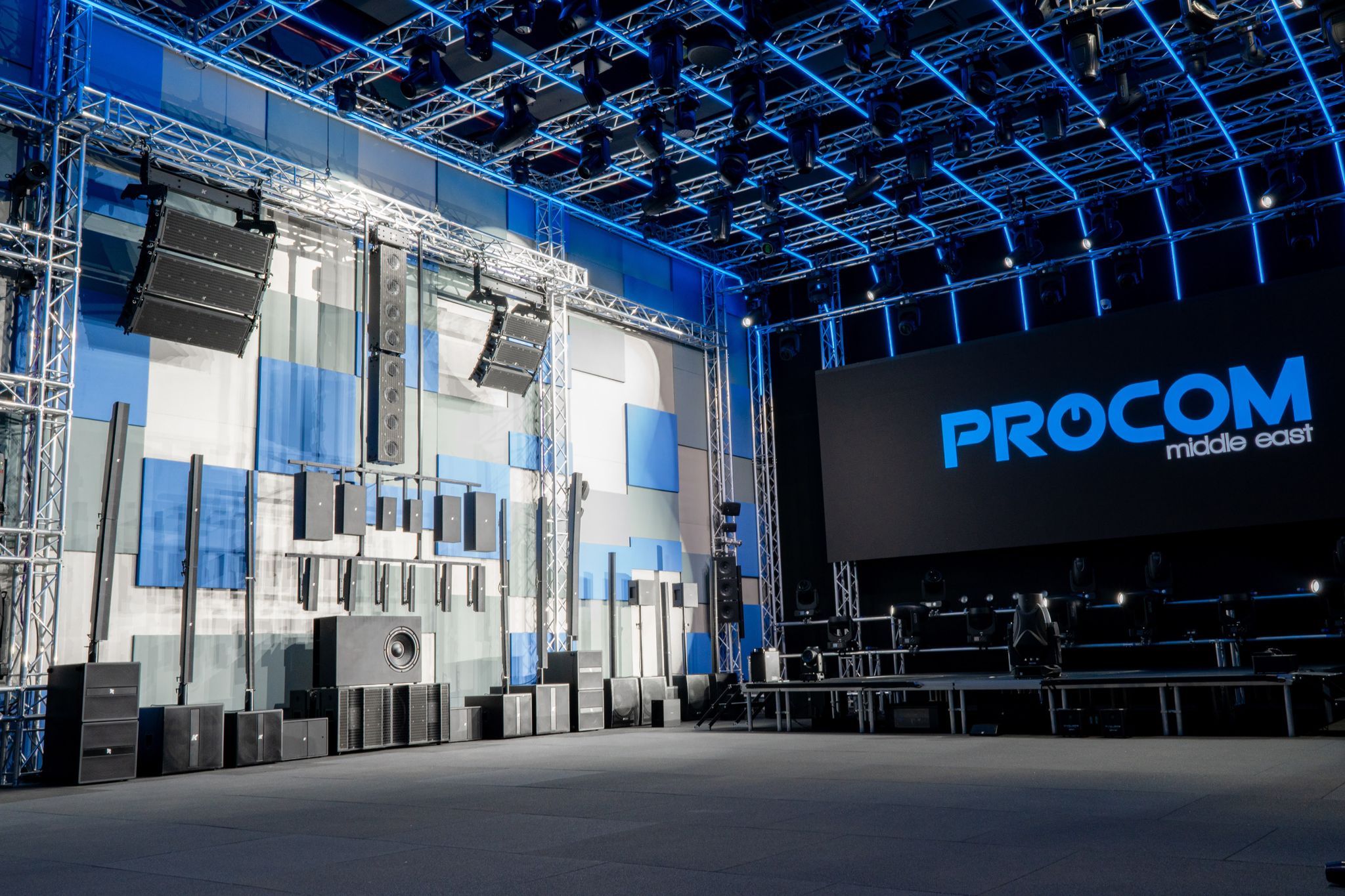 Procom, distributor of K-array group products in the Middle East, recently inaugurated an interactive multi-room demo space at its headquarters in Dubai. Situated in Dubai Investment Park, Procom wanted to create an accessible space that would allow clients full access to a range of cutting-edge K-array, KGEAR & KSCAPE equipment in a setup that mimics real-world environments. This installation is a continuation of the Procom and K-array collaboration, following several recent high-profile projects including Ferrari World Abu Dhabi, the City Walk in Dubai and Iris Meydan.
An extensive range of products from the K-array family was deployed across multiple environments including a demo room, meeting room, reception area, and training centre to showcase K-array solutions across applications as varied as live entertainment, corporate installations and hospitality & retail.
Upon entering the showroom, visitors can explore a choice of K-array group solutions in a dedicated display area featuring both K-array and KGEAR brands. Products here include K-array's ultra-flat Vyper line array elements and 2" point source Tornado speakers plus a range of subwoofers, as well as KGEAR's GCF wall-mounted & ceiling speakers and GA Amplifiers. "At Procom Middle East, we believe in the power of showcasing quality products to potential customers. The display area allows us to highlight the innovative and high-quality audio products that K-array offers," explains Wiam Boutine, Technical Manager at Procom.
KSCAPE's signature RAIL product is installed in various forms across the Procom facility. RAIL combines high-end lighting and aesthetics with professional-quality audio in a format that is ideal for offices and meeting rooms as well as retail and residential spaces. At Procom, visitors can experience real-world examples of KSCAPE RAIL in action across the demo room, meeting room, reception area and training centre. Anro Schroeder, Sales Manager at Procom reflects on how deploying RAIL across multiple spaces has improved the customer experience at Procom: "Our goal is to provide our customers with a real-world example of the capabilities of KSCAPE rail products. By installing these products in our facilities, our customers can experience their power and clarity first-hand."
The Procom demo room caters for all tastes, featuring some of K-array's most prestigious and powerful loudspeaker series alongside a full KGEAR installation range. K-array's top-of-the-line touring system, Firenze-KH7 demonstrates the best of live performance sound from the K-array catalogue, whilst the Mugello-KH3 represents another powerful offering from the Concert Series. Column line-array solutions on show at Procom include K-array's Python, Kobra and Kayman series, the latter of which is the loudest column loudspeaker in their collection, ideal for environments where aesthetics and/or preserving sight lines are critical.
Sub-bass demonstrations are covered by the passive and active Thunder series, with monitoring for live music performances provided by the Turtle-KRM33, a low-profile wedge loudspeaker. Finally, the Anakonda series, K-array's unique multi-form solution, continues to challenge perceptions of what is possible in audio installation, thanks to its fully-flexible 2-metre-long body. On the other hand, KGEAR products, including GC and GW series in-ceiling and in-wall speakers and GF82 column speakers, matched with GA series amplifiers, highlight the capabilities of the KGEAR brand for commercial applications.
"Having a space in the Middle East where people can experience the full family of K-array group products is something we're really excited about. With the recent launch of many new product lines across K-array, KGEAR and KSCAPE, it's important that customers can experience these solutions first-hand," explains Tom Ríby, Global Sales & Marketing Manager at K-array.
A dedicated event in celebration of the K-array product family will be taking place at the Procom headquarters in Dubai in June.
The ability for clients and distribution partners to demo a combination of products and experience a full K-array system is invaluable for helping users to feel confident with the systems. Furthermore, prospective clients can compare models, encouraging purchasing decisions from a place of knowledge, we're proud of what we have created and are confident that our business - and our clients' business - will benefit considerably as a result. Everyone wins