Primo Maggio Music Festival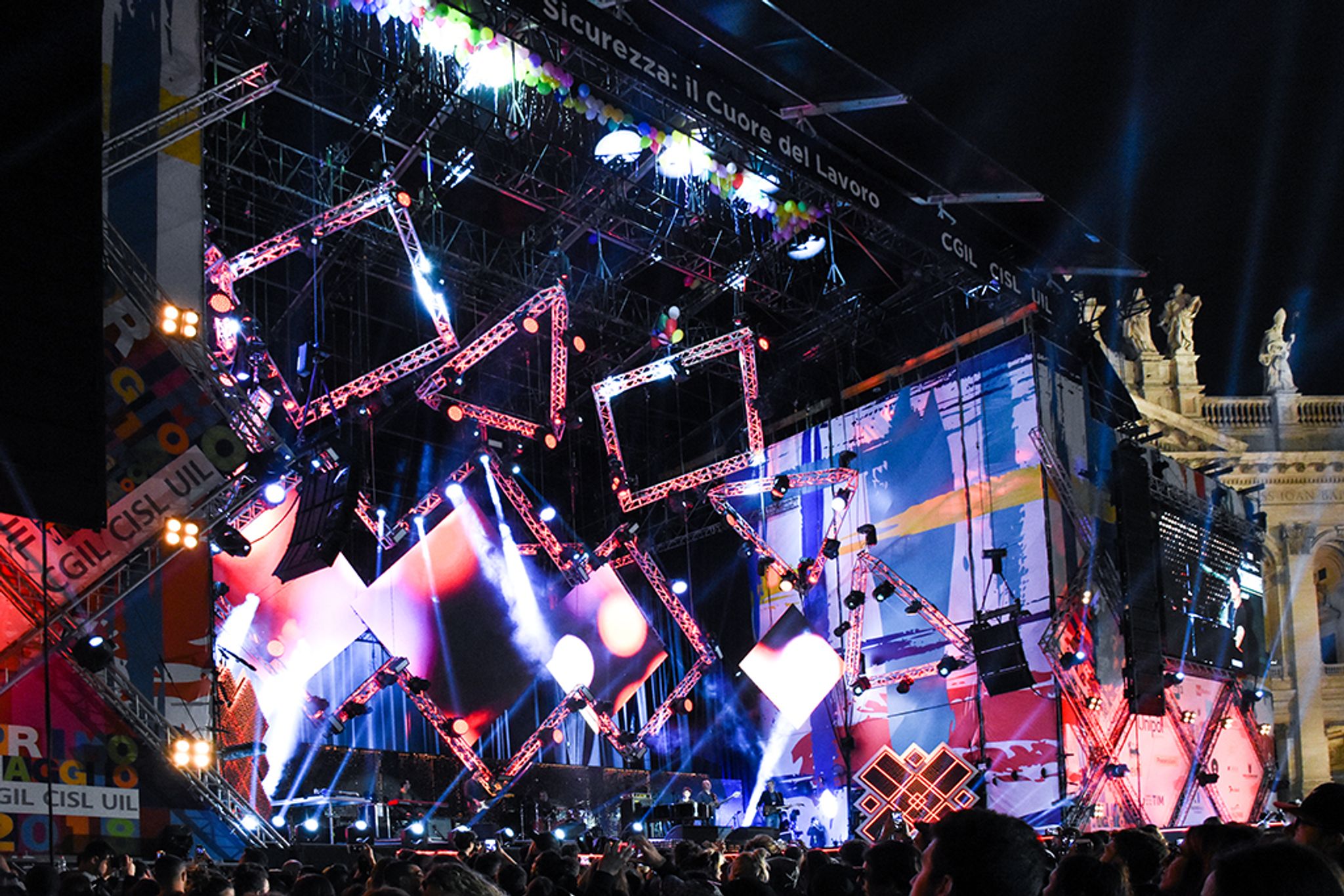 The Primo Maggio Concert is an Italian all-day music festival organized annually on the first of May to celebrate the Labor Day holiday. Set in Piazza San Giovanni in Rome and broadcast live on public television, this popular national event is also referred to as the Concertone or "Big Concert" due to the duration of the musical marathon which begins in the afternoon and ends late at night due to the sheer volume of artists and audience. For the 28th edition if the festival, stage managers Toni Soddu and Alessio Martino from ALTO Stage Management entrusted the audio domain entirely to K-array to provide high quality sound for the 50+ performances, including international artist Fat Boy Slim, and the 500,000 people present.
Product specialist and system designer Klaus Hausherr, together with Roberto Marchesi from Italian distributor Exhibo, developed a powerful, versatile main system using 24 Firenze-KH8 line elements with Slim Array Technology and Electronic Beam Steering paired with 16 Firenze-KS8 subwoofers. 6 Mugello-KH3 line arrays were used as front fill while the delay line was made with 4 Firenze-KH7 and the lateral delay lines made up of 10 Mugello-KH2 loudspeakers on each side. The onstage monitoring was comprised of a side fill system with 6 Mugello-KH5 paired with 4 Mugello-KS5 subwoofers.
Four powerful Mastiff-KM312 and 14 Mastiff-KM112 speakers were used for floor monitors and the drum-fill was made up of 2 Thunder-KMT21 subwoofers and 2 Dragon-KX12 elements. Two sets of Axle-KRX202 portable systems were used as a near fill for the FOH sound engineers, one for each FOH mixer. The artists' sound engineers, including resident FOH Davide Linzi and Simone Squillario along with Sound Management for ABC rental company, Marco Lecci, were impressed with the coverage and uniformity of the system. And its power was evident, reaching an LAeq of 106 SPL at FOH.
Usually at music festivals, it's difficult to find a set standard of audio quality that accommodates all the artists and their performances of different genres. But with the versatility and power of the Firenze system at Primo Maggio, we were able to meet everyone's needs. The system not only sounded great but looked great too!