Sommerro Hotel and Cultural Hub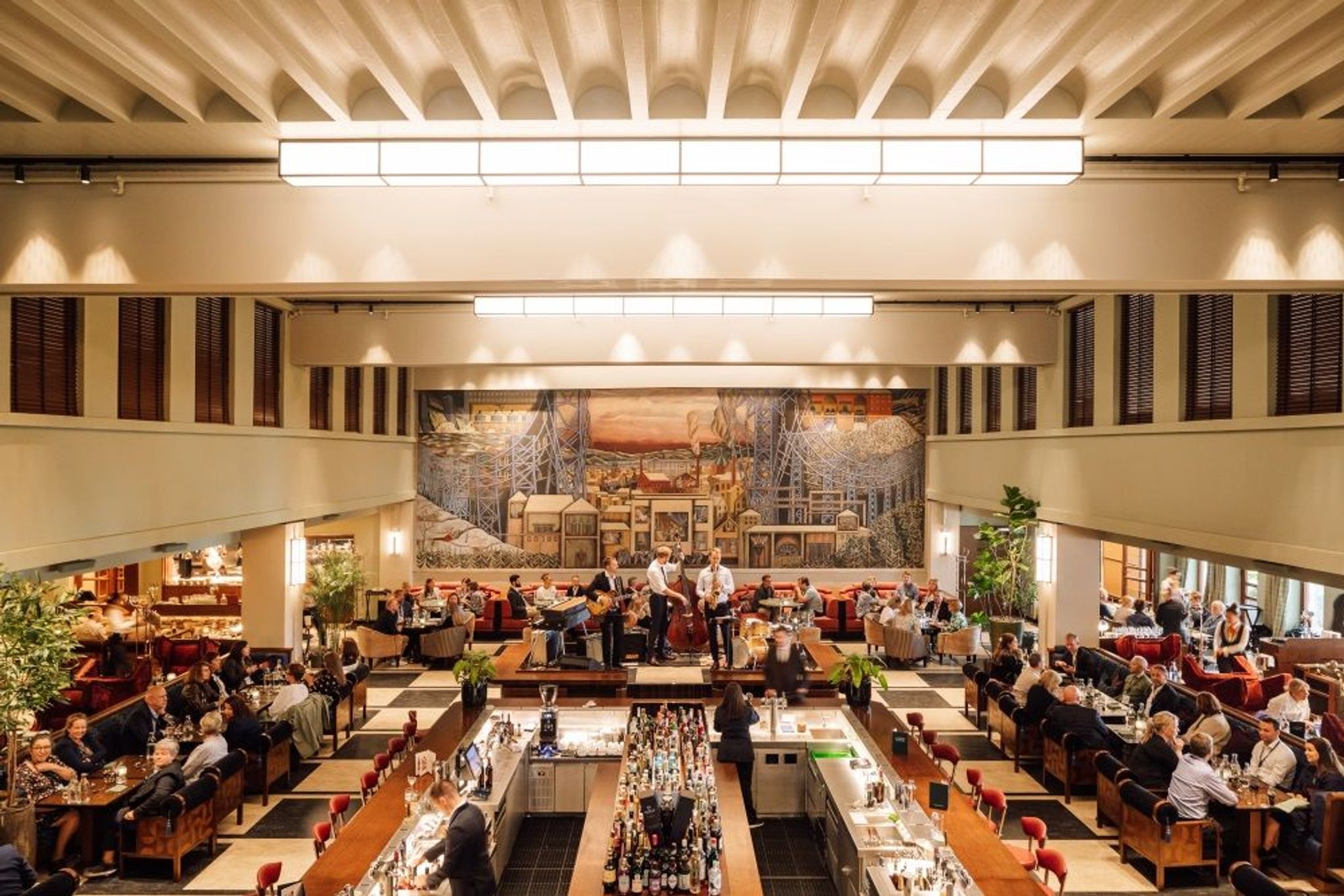 When billionaire and owner of Nordic Hotels and Resorts, Petter Stordalen, wanted to open a new flagship hotel and cultural hub, he set his eyes on the historic building of 'Gamle Oslo Lysverker'. Dating back to the 1930s, the Old Oslo Lightworks once housed the first electricity distribution centre in Oslo, before later serving as the largest indoor pool and spa in the city, the Vestkantbadet.

In a restoration project that costs over 250 million euros, this extensive building has been meticulously restored in cooperation with the director of cultural heritage in Oslo. No less than 231 rooms and suites, a full medical spa and pool area with adjoining gym, a rooftop sauna and swimming pool, six restaurants, seven event halls, multiple meeting rooms, a library, a movie theatre, a piano bar, and two live stages are available both to guests staying at the hotel and people wanting to drop in for both business and pleasure. These facilities required an extensive AV system that would remain discreet and maintain the 1930s-style décor, including original Per Krogh frescoes.
Oslo-based technology experts, Bravo, led the integration process, working closely with renowned designers, Grecodeco. Audio technology for the project was supplied by local distributor, First Audio. A total of 295 K-array & KGEAR products were deployed, making the Sommerro project the largest K-array installation to date.

"The goal was to transform this legacy building into a cultural hub with a hotel, restaurant, bars, conference halls, concert venue, a spa with swimming pool, roof terrace and a cinema," explains Espen Siverts. "The client brief demanded a variety of sound solutions that needed to meet the functions of the spaces, whilst adhering to the regulations in place to preserve the original architecture – this was a key challenge."
A full K-array system was specified, chosen for its discreetness and wide range of models to fit the variety of use cases throughout the Sommerro. "K-array products were ideal for this project," confirms Siverts. "The variety of sizes, models and finishes available allowed us to build a system that could meet the listening expectations of the end user without compromising on aesthetics."
Sommerro Oslo offers spaces for those looking to work, stay or play. Culinary experiences are abundant, with four unique restaurants and two bars to choose from. One of these is the Ekspedisjonshallen, offering all-day brasserie-style dining. The space features a wall fresco by Norwegian artist Per Krogh, so maintaining the aesthetics of the restaurant was of high priority. The dining hall hosts a live band every weekend, followed by a late-evening DJ, so these requirements were also taken into consideration during specification. Here, the installation comprises ten Python half-metre line array loudspeakers and four ultra-flat K-array Vyper loudspeakers, alongside four K-array Rumble and two Thunder subwoofers to enhance the low-frequency range. The system is driven by a single Kommander-KA208 amplifier.
From culinary to cultural delights, the Sommerro boasts an on-site cinema, library room and theatre space. The cinema - which features 28 comfy deep-tufted art deco lounge chairs and offers regular screenings of everything from Norwegian and foreign films to timeless classics - called for an immersive audio system. A Yamaha RX-A8A Musiccast receiver serves as the central hub, providing connectivity and control for the entire audio setup. The main audio system is comprised of three K-array Python metre-long line array elements (LCR), plus r half-metre loudspeakers for surround sound. Amplification is provided by K-array's Kommander-KA34 and Kommander-KA104. Movies are shown on a 138-inch LG LED screen.
The wellness floor at Sommerro, aptly named Vestkantbadet, after the public swimming pool originally at the site, is a 1400-square-metre space comprising an infrared sauna, cold plunge pool and a state-of-the-art gym. Soothing background music is provided through three K-array Domino-KF26 loudspeakers, driven by a Kommander-KA14 amplifier, whilst two Spherina Air pendulum loudspeakers ensure even sound distribution. Meanwhile, in the Gym area, music is reproduced through eight Vyper-KV25 slimline loudspeakers. Complementing these are four KU44 Rumble subwoofers. Finally, two Domino loudspeakers complete the system, offering consistent audio coverage throughout the space. Again, all loudspeakers are driven by a Kommander series amplifier.
Much of the third floor is dedicated to a series of meeting rooms, each with a unique interior styling, but all boasting top-of-the-line AV systems, including K-array's Azimut Professional Sound System, composed of two 25cm-long Vyper loudspeakers, an ultra-compact Truffle-KTR26 subwoofer and a Kommander-KA02 amplifier. Visuals are provided through a 77-inch OLED TV with video conferencing via a Bose VB1 video bar. In the guest rooms, stylish interiors take centre stage, with Azimut Sound Systems deployed in the four most luxurious suites. Furthermore, each suite is also equipped with a Samsung 75-inch 4K TV and Bose VB1 video bar.
"K-array's unique and discreet loudspeakers were the key to providing a solution that met both the sound quality expectations and the restrictions from the interior architect," reflects Eivind Vierli, Project Manager at Bravo. "We could not have realised this project so successfully with another brand."
Since opening, the cultural and culinary offerings at Somerro Olso have garnered much attention. In a review of the Sommerro's 8th-floor restaurant, Tak, one Aftenposten food critic remarked, "The background music is at a suitable level - the integrator delivering the audio in this building has done an excellent job. Here you can easily hear the music, the people around you, and what your waiter is saying".
The result is a modern tribute to Norwegian cultural heritage, an open house and a community hub. "Today, the Sommero is full of people enjoying a variety of high-end AV systems in beautiful surroundings, from live concerts to pool-side background music," concludes Siverts. "The project was a huge success and the Sommero is a must-visit destination in the heart of the historic Frogner neighbourhood."